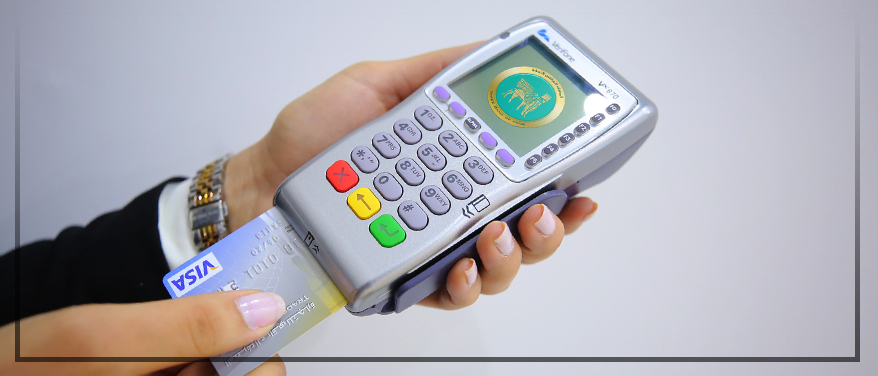 Points of Sale
TBI-One of the First Users of POs
POs (Points of Sale) are used in wire transfer to electronically enable the buyer purchasing the goods. This service is connected to SWIFT (VISA/MASTER card). The device is highly protected in accordance with the regulation of VISA/MASTER card company. Paying through electronic cards shall increase sales rates and works.
Trustworthy…Operating
- TBI is committed to PCI DSS.
- The merchant knowledge regarding the details of processing electronic cards transactions that is necessary to reduce the risks of the losses resulting from fraud and refund.
- As per market increased competition, it is necessary to adopt the latest available technologies in the field of electronic payment and security standard.
- Trade Bank of Iraq is interested to increase merchant revenues through employing POs and urging him/her to adopt the latest technologies which allows easy electronic payment.
What you shall do?
- Two copies of the contracts must be adopted in both Arabic and English for each device and each Party.
- the merchant shall open a TBI IQD account in the name of the company or store or hotel owner in order to receive the amount of electronic cards withdrawals, provided that the merchant provides the bank with complete official documents of Authorized director or the Iraqi store manager or passport and Work permission in Iraq.
- Providing legal lease contract of the company or the store.
- Providing Trademark permission issued by Chamber of Commerce or work permission issued by Company Register or permission from Ministry of Tourism and Antiques regarding hotels.
- The signature of the Authorized director of the company or store or hotel or his/her legal Authoritative will be accepted, provided that it matches his/her signature that is used in opening the Current account.
- The seal of the company, hotel or shop shall be clearly affixed to the legal contract and the name of the contracting authority shall be strictly identical to the contents of that seal.
- Fixing interest rate as per agreed between both Parties.
- An insurance of IQD 600,000 amount must be paid to the bank.
When do you collect your Money?
- the merchant shall open a TBI IQD account in order to deposit all local and foreign withdrawals processed through POs within minimum of four (4) working days.